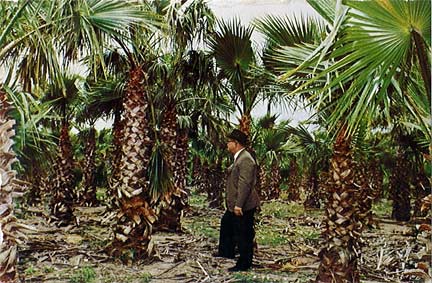 A field of Washingtonia robusta, about 1960, at Pletchers Wholesale Nursery, in Harilngen Texas.
The photo was taken by Ronnie Luster Studio, as a Post Card for Pletchers Wholesale Nursery, the caption reads; George Pletcher, palm king of U.S.A. in Washingtonia palm field.
"Half Century Beautifying With Palms"
Spring has come to South Texas, and as the suns angle slowly returns to a more northerly position, the days get longer and the temperatures begain to rise. The cotton is being planted and the flowers and trees are starting to bloom. "Oh", how I love these early days of Spring!

Join the International Palm Society



Join the Palm Society of
South Texas